Kinect WeROC® 2023 Conference


The Power of Her
Don't miss out! Kinect WeROC starts in
Kinect WeROC® Conference 2023 is in its 7th year of supporting female CEOs, entrepreneurs, and founders who are raising capital to further scale their business. Her VISION is our MISSION. This year, we invite funders, mentors, business executives, entrepreneurs, and women in our community to come support, be inspired, and invest in the Power of Her– her vision, her future, and her success.
WeROC – Women Entrepreneurs Realizing Opportunities for Capital – invites attendees to support the female CEOs showcased through our program. This year, we'll explore and discuss effective tactics used by women entrepreneurs who have successfully raised capital. Additionally, we'll introduce you to 16 female CEOs who have graduated from Kinect's education and mentoring program and are now fundraising to scale their businesses.
This conference is dedicated to empowering women-led companies by offering valuable insights and motivation for navigating today's market landscape. The conference highlights how investing in and supporting women business owners contributes to the flourishing growth and prosperity of our communities. This event also caters to various capital providers actively seeking high-potential early-stage ventures for investment opportunities.
Add the Kinect WeROC Conference on September 5 and 6, 2023 to your calendar! Located in Salt Lake City, Utah, this event will be a unique and intimate experience filled with educational resources, keynote speakers, CEO presentations, and networking opportunities. Whether you choose to immerse yourself in one enriching day or seize the full experience over both days, secure your tickets online today.
Fundraising Pitches and Fueling Her Growth
Tuesday, September 5, 2023
Thomas S. Monson Center, Salt Lake City, Utah
Day one is an immersive encounter with excellence designed to create meaningful connections between capital providers and entrepreneurs. Each CEO takes the spotlight to deliver their concise, impactful 10-minute fundraising introduction pitch to the attending funders. Be a part of this intimate gathering where the venue and experience embody sophistication and the art of meaningful engagement, in a beautiful, historic mansion.
Fundraising Landscape and Empowering Her Success
Wednesday, September 6, 2023
University of Utah Alumni House, Salt Lake City, Utah
Day two is poised to draw a gathering of 300 individuals interested in supporting women-founded and women-led businesses by helping to make capital more accessible. Day two attracts inspiring entrepreneurs, mentors, service providers, students, investors, banks, and other amazing community groups.
The Press Embraces Kinect WeROC 2023
Read the recent articles covering this amazing event and program supporting women entrepreneurs.
WeROC® Program Offerings​
Each of the female founders in the Kinect WeROC Program will get exclusive guidance on raising capital and assistance on how to pitch their business to investors and other capital providers through these three main program offerings.

If you are a female CEO, founder or co-founder, and are approaching a scaling point in your business, it's time to prepare for your capital raise. Kinect Capital offers a free mentoring program for women founders and CEOs to work on their capital raising pitch and strategic approach. Our CEO-focused mentoring program is a unique, private, and safe way to learn about speaking to investors, banks, and foundations.
The Kinect mentoring program lasts up to 8 weeks. It includes a structured weekly 1-hour mentoring session where a Mentor Lead and a Mentor Liaison (one of our interns!) work together to organize your investment presentation and gather feedback from a group of experienced and diverse experts who will serve as your dedicated mentors.
At the end of the mentoring sessions, you will have the opportunity to pitch your business at a Kinect Forum–a pitch event structured to provide constructive feedback, where investors and capital providers listen to the proposition and respond to the pitch and capital raising approach. 
Finally, those who graduate from the Mentoring program and Forum will go on to pitch at the WeROC event in front of hundreds of capital providers and influencers.

A memorable experience during the WeROC mentoring journey is the Kinect Forum. Women CEOs and founders present their pitches to a panel of active angel investors, venture investors, bankers, and other capital providers.
These expert panels offer honest and direct feedback, aiding startup leaders in fine-tuning their presentations to pursue successful fundraising.
The Kinect Forum is accessible both in-person and online, allowing others to observe and learn. This event remains private, exclusively for CEOs and Mentors to attend.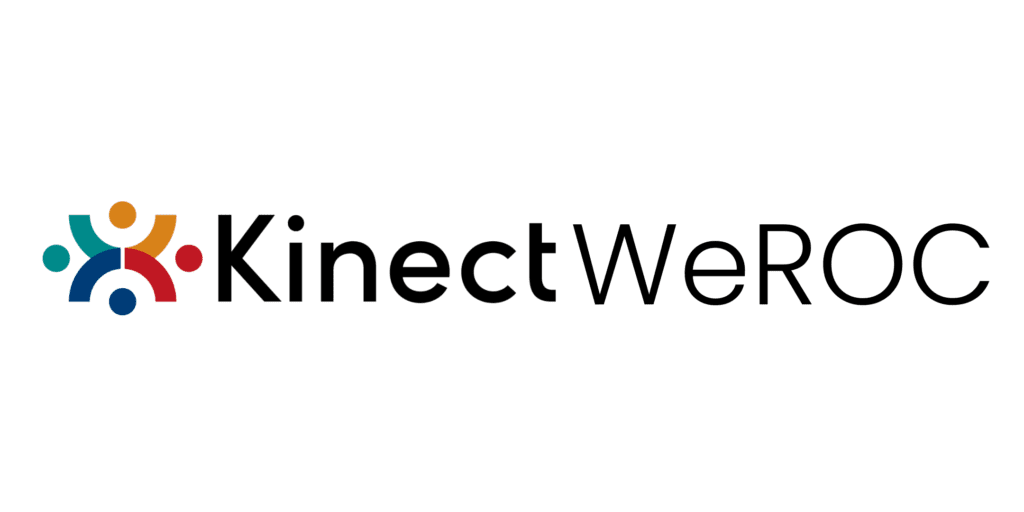 Kinect WeROC Conference stands as an inspirational annual gathering featuring passionate keynote speakers and panelists who've braved the challenging terrain of limited access to capital and other obstacles that women-led or founded ventures often encounter.
Kinect WeROC brings together both women and men launching startups, the influencers weaving change, and investors, financing groups, and capital providers who are driven by a vision to back women-led enterprises. It serves as an inspiration event to women entrepreneurs, helping them to clear the barriers preventing them from achieving the capital they need to scale their businesses. By joining this collective endeavor, we not only nurture dreams but also cultivate a thriving community where supporting women entrepreneurs is the catalyst for creating a world where equality, innovation, and empowerment flourish.